By
John Mishefske
Glextor App Manager is an alternative choice to your default app drawer to find and launch apps quicker. It's key feature groups similar apps by category, i.e. Games, Productivity, Photo, Entertainment, etc. The grouping feature does not happen at first launch, however, you'll have to tap the icon to the top left to allow the app to automatically filter. Thereafter when you add new apps they get automatically grouped. You can sort by all apps, downloaded apps and favorite apps and these too are sub-grouped. Additionally, you can create, edit and reorder groups; plus backup and restore group settings.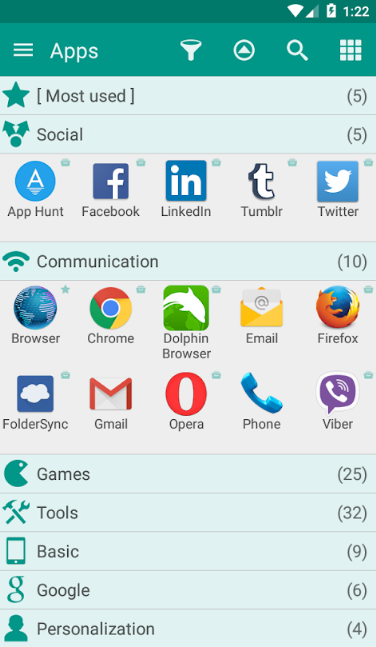 Furthermore, simply tap to open an app or can long-press to reveal more options like; creating shortcuts of apps and groups on the home screen, uninstall (individually or batch uninstall apps), share via Facebook, Gmail or text message, move to another group or view in Google Play. Diving into the settings reveals that you can change of theme (dark/light), navigation type, change icon size & language, grouping options and more.
I'm not a fan of ads in my app drawer, however, so if you try out the freebie version and find it useful you might want to consider the paid version to eliminate these.
I would encourage you to try the free version as it offers the convenience of grouping your apps to make things easier to find versus a long alphabetically organized list of apps offered by default Android and other custom skins many phones have. Though the app does not have a long list of features the few it does offer are worth checking out.